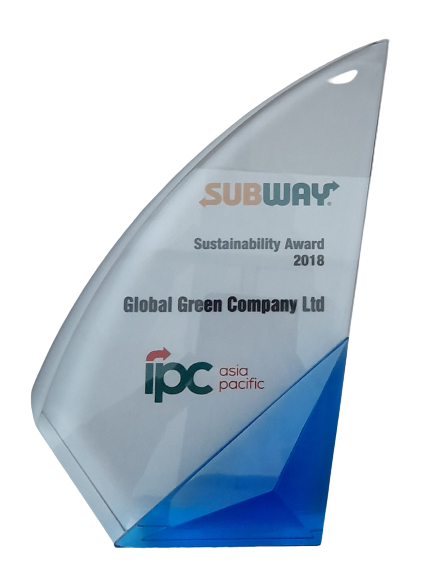 Yum! India was awarded the "Recognition Award for 2018" to Global Green Company Limited during a felicitation ceremony held on 4th July 2018 at J W Marriot, Chandigarh during YUM! Supplier Conference 2018.
The award from YUM! India is recognized for Global Green's integrated tomato paste project – the project has helped YUM! India to achieve 100% localization of tomato paste.
The award was presented by Mr. Vijay Sukumar, Chief – Food Innovation & Quality Assurance, and Mr. Sunay Bhasin, Director of Marketing – PH Dining, YUM! India to Mr.Ravi Jadeja, VP Sales (India, Russia & Middle East), Global Green
The conference is an annual event and was attended by the leader's hip and management Team of YUM! consisting of more than 150 delegates from a wide base of national and international suppliers of YUM! YUM!  Has 39,000 outlets worldwide and YUM! India has now 600 outlets in India (KFC, Pizza Hut, Pizza Hut Delivery, and Taco Bell).  YUM! India became the fastest-growing multinational QSR chain in India during 2012 by opening 138 outlets in one year and it has a very clear and aggressive store opening plan to achieve a target of 1000 outlets by 2015 and 2000 outlets by 2020.
Yum! though its stringent process of selecting best-in-class suppliers has rightly selected Global Green which already has vast and varied experiences in global food safety, quality, and customer servicing. Both companies are looking forward to a synergistic relationship that will benefit each other in the long run.